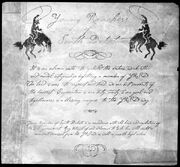 The Young Ranchers of South Dakota is a South Dakota youth organization whose purpose is to "uphold the virtues, work ethic and model citizenship befitting a member of YRSD." Due to its patriotic background, the YRSD has strong ties to the United States government and is strictly in accordance with all laws and regulations issued by the said government. If any YRSD member ever committed any "betrayal" of said adherence to U.S. law will result in immediate dismissal from the YRSD, as well as possible legal action.[1]
Young Rancher Shoot-Off
Edit
The YRSD held a year annual Shoot-Off at South Dakota's state fair, in which the competition was initially competed by men since 1935 until 1945, when Susan Farley became the first woman to enter the Young Rancher Shoot-Off and won.[2] However, she was immediately dismissed and her victory rescinded when her affiliation to the anti-government group, the Alliance for American Autonomy, was discovered.[3] As of 1950, Becka Feedle of Minnehaha County was the second woman to enter the competition since Farley's dismissal and later won the competition.[4] In 1942, Nathan Hale participated in the YRSO and scored a 96.5% accuracy in nearly all his targets, in which his record score remained unbeaten.
Shoot Off list of Champions
Edit
Name
Nathan Hale
Reggie Huntington
Susan Farley (disqualified)
Burl Pryers
Sammy "Eagle Eye" Samuelsen
Norman Styloe
Harry VonMorse


Year
1942
1946
1945
1937
1935
1943
1944


Accuracy
96.5%
89%
87.5%
85%
85%
83.5%
82%


Score
193/200
178/200
178/200
170/200
170/200
167/200
164/200

Ad blocker interference detected!
Wikia is a free-to-use site that makes money from advertising. We have a modified experience for viewers using ad blockers

Wikia is not accessible if you've made further modifications. Remove the custom ad blocker rule(s) and the page will load as expected.