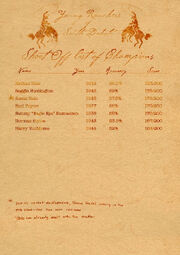 Biggest Show - 1937

BEEZZIE
577 pounds

Owner:
Sarah May Louenfield

---

"Best Produce 1946"
"Best Produce 1947"

For two seasons in a row, the Wreggler
farm has harvested the most bountiful
array of fruits and vegetables per square
acre in all of South Dakota.

Congratulations, Jonas!

---
Young Ranchers of South Dakota
Shoot Off list of Champions





  Name
  Nathan Hale
  Reggie Huntington
 *Susan Hale
  Burl Pryers
  Sammy "Eagle Eye" Samuelsen
  Norman Styloe
  Harry VonMorse





    Year
    1942
    1946
    1945
    1937
    1935
    1943
    1944





        Accuracy
        96.5%
        89%
        87.5%
        85%
        85%
        83.5%
        82%





            Score
            193/200
            178/200
            178/200
            170/200
            170/200
            167/200
            164/200


 *Due to recent developments, Susan Hale's victory in the 1945 shoot-off has been rescinded.

YRSO has already dealth with the matter.
See also other files in the series - YRSD519597, YRSD519596, and a secure file YRSD519594
Ad blocker interference detected!
Wikia is a free-to-use site that makes money from advertising. We have a modified experience for viewers using ad blockers

Wikia is not accessible if you've made further modifications. Remove the custom ad blocker rule(s) and the page will load as expected.