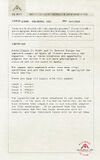 U.S. ARMY    INTELLIGENCE REPORT PREPARED FOR DEPARTMENT OF WAR
COURIER: BROWN, CHANNING, SGT.     SN# 764122AX

Courier must be subjected to eleven day quarantine procedures*. If courier is unable to
provide appropriate identification, courier must be detained. If seal on pouch is
compromised, courier must be remanded to military custody. Tampering with contents
of pouch is a treasonable offense published by no less than 10 years in prison.

CONTENT LIST

Surveillance in Italy and in Eastern Europe has
captured images of types of Chimera previously not
reported. Two of these creatures are apparently
adapted for Marine life and were photographed in a
skirmish off of the coast of Spain.

The images were captured under less than ideal
conditions and are the best we have. We apologize for
their quality.

There are four (4) images with this packet.

Image 1 SP2321
Image 2 SP2322
Image 3 FR8534
Image 4 FR8535

The capabilities of these creatures is not known; for
example, in the case of the marine varieties, we do not
know whether they require air or are entirely adapted
for life underwater. It is assumed that the energy
requirements for the two large creatures must be
immense, and that therefore there will be few of them.
Ad blocker interference detected!
Wikia is a free-to-use site that makes money from advertising. We have a modified experience for viewers using ad blockers

Wikia is not accessible if you've made further modifications. Remove the custom ad blocker rule(s) and the page will load as expected.