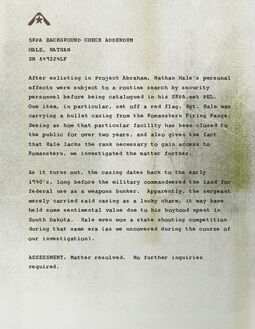 SRPA BACKGROUND CHECK ADDENDUM

HALE, NATHAN

SN 849324LF

After enlisting in Project Abraham, Nathan Hale's personal
effects were subject to a routine search by security
personnel before being catalogued in his SRPA.net PEL.
One item, in particular, set off a red flag: Sgt. Hale was
carrying a bullet casing from the Romanstern Firing Range.
Seeing as how that particular facility has been closed to
the public for over two years, and also given the fact
that Hale lacks the rank necessary to gain access to
Romanstern, we investigated the matter further.

As it turns out, the casing dates back to the early
1940's, long before the military commandeered the land for
federal use as a weapon bunker. Apparently, the sergeant
merely carried the said casing as a lucky charm; it may have
held some sentimental value due to his boyhood spent in
South Dakota. Hale even won a state shooting competition
during that same era (as we uncovered during the course of
our investigation).

ASSESSMENT: Matter resolved. No further inquiries
required.
Ad blocker interference detected!
Wikia is a free-to-use site that makes money from advertising. We have a modified experience for viewers using ad blockers

Wikia is not accessible if you've made further modifications. Remove the custom ad blocker rule(s) and the page will load as expected.