Hey guys and girls, even though Insomniac have announced that Resistance 3 would be their last Resistance game and we wish them the best of luck in future projects (thankyou), it doesn't mean the franchise is dead.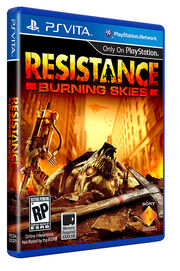 Nihilistic Software has announced that Resistance: Burning Skies, will be released on PS Vita in North America on May 29th, 2012 and May 30th in the EU. [1].
The game is a prequel set in 1951, following the life of Fireman Tom Riley during the Chimeran Attacks on New York and the game will be in the record books as the worlds first portable dual-analouge game.
Ad blocker interference detected!
Wikia is a free-to-use site that makes money from advertising. We have a modified experience for viewers using ad blockers

Wikia is not accessible if you've made further modifications. Remove the custom ad blocker rule(s) and the page will load as expected.