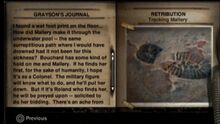 I found a wet footprint on the floor... How did Mallery make it through the underwater pool--the same surreptitious path where I would have drowned had it not been for this sickness? Bouchard has some kind of hold on me and Mallery. If he finds her first, for the sake of humanity, I hope it's as a Colonel. The military figure will know what to do, and he'll put her down. But if it's Roland who finds her, he will be preyed upon--solicited to do her bidding. There's an ache from my gut to head telling me that when I find her, I won't be able to do the right thing--the military thing, the standing order to execute anyone infected. I had summoned that strength once, and it hollowed me to the core. And now that I've finally started filling that void, I may have evacuate it with another murder.
-- Journal Entry, 06 September, 1951 -- James Grayson
Ad blocker interference detected!
Wikia is a free-to-use site that makes money from advertising. We have a modified experience for viewers using ad blockers

Wikia is not accessible if you've made further modifications. Remove the custom ad blocker rule(s) and the page will load as expected.