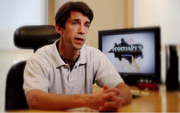 Ted Price is the President and CEO of Insomniac Games, an independent video game developer based in Burbank, California. He founded the company in 1994; as of 2009 it has grown to over 145 people.
Price's responsibilities at Insomniac include directing the company's day-to-day business and setting its long term strategies as well as overseeing its projects and contributing to their design. Price is also the Chairman of the Academy of Interactive Arts and Sciences and has been very active in the industry's efforts to combat anti-videogame legislation. He holds a degree in English from Princeton University.
Works
Disruptor - 1996 (PS)
Spyro the Dragon - 1998 (PS)
Spyro 2: Ripto's Rage! - 1999 (PS)
Spyro: Year of the Dragon - 2000 (PS)
Ratchet & Clank - 2002 (PS2)
Ratchet & Clank: Going Commando - 2003 (PS2)
Ratchet & Clank: Up Your Arsenal - 2004 (PS2)
Ratchet: Deadlocked - 2005 (PS2)
Resistance: Fall of Man - 2006 (PS3)
Ratchet & Clank Future: Tools of Destruction - 2007 (PS3)
Ratchet & Clank Future: Quest for Booty - 2008 (PS3, PSN)
Resistance 2 - 2008 (PS3)
Ratchet & Clank Future: A Crack in Time - 2009 (PS3)
Ad blocker interference detected!
Wikia is a free-to-use site that makes money from advertising. We have a modified experience for viewers using ad blockers

Wikia is not accessible if you've made further modifications. Remove the custom ad blocker rule(s) and the page will load as expected.