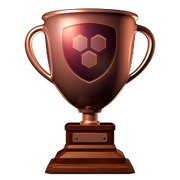 Talk To The Hand is a Bronze trophy awarded when the player uses the Auger's secondary fire (force barrier) to stop a total of 150 incoming enemy shots in the Single Player campaign of Resistance 2.
Deploying the shield in front of The Swarm earns you this trophy instantly
Ad blocker interference detected!
Wikia is a free-to-use site that makes money from advertising. We have a modified experience for viewers using ad blockers

Wikia is not accessible if you've made further modifications. Remove the custom ad blocker rule(s) and the page will load as expected.