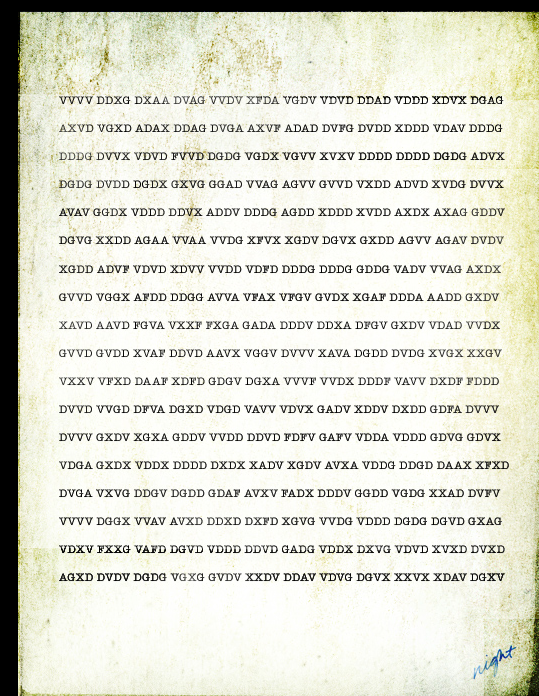 The document is written in code; specifically, it has been run through a ADFGVX cipher, a coding system used by the Germans in World War I. Encoding the text requires the use of a 5-letter code word, in this case "night" has been used.
Translation:
SRPA RESEARCH BULLETIN ATTN SRPA7 FLAG FOR DOCTORS RICHARD PFEVN MANJULIA CATHCART SRPA8
SRPA STATION GENESIS AN APPARENT ALIEN PROTOTYPE WEAPON HAS BEEN RECOVERED IN SPAINAND SHIPPED TO US THROUGH LONDON IT IS BEING
SHIPPED TOSRPA7 FOR LAB ANALYSIS FIELD OBSERVATIONS REPORT THAT IT LOOKS THROUGH WALLS AND FIRES AROUND CORNERS SO FAR IT HAS DEFIED
ATTEMPTS TO REVERSE ENGINEER EITHER MATERIALS OR THE INTRICATS COMPUTATIONAL TECHNOLOGY THAT CONTROLS ITS AIMING AND FIRING MECHANISMS
REF SUPPORT DOC WA291156
Ad blocker interference detected!
Wikia is a free-to-use site that makes money from advertising. We have a modified experience for viewers using ad blockers

Wikia is not accessible if you've made further modifications. Remove the custom ad blocker rule(s) and the page will load as expected.