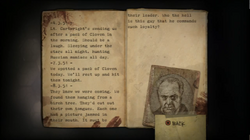 Stranger is the twenty-eighth Intel document in Resistance: Fall of Man. It is found in the section level "Into the Depths" in Bracknell.
- 4.3.51
Lt. Cartwright's sending us after a pack of Cloven in the morning. Should be a laugh. Sleeping under the stars all night, hunting Russian maniacs all day.
- 7.3.51
We spotted a pack of Cloven today. We'll rest up and hit them tonight.
- 8.3.51
They knew we were coming. We found them hanging from a birch tree. They'd cut out their own tongues. Each one had a picture jammed in their mouth. It must be their leader. Who the hell is this guy that he commands such loyalty?
Ad blocker interference detected!
Wikia is a free-to-use site that makes money from advertising. We have a modified experience for viewers using ad blockers

Wikia is not accessible if you've made further modifications. Remove the custom ad blocker rule(s) and the page will load as expected.