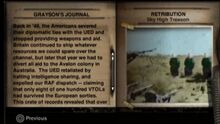 Back in '49, the Americans severed their diplomatic ties with the UED and stopped providing weapons and aid. Britain continued to ship whatever resources we could spare over the channel, but later that year we had to divert all aid to the Avalon colony in Australia. The UED retaliated by halting intelligence sharing, and expelled our RAF dispatch--claiming that only eight of one hundred VTOLs had survived the European sorties. This crate of records revealed that over sixty VTOLs had actually survived, and the UED returned eight crews as part of a charade to cover the theft of the remaining aircraft. Other documents and photos revealed their scheme to deceive and murder the other RAF crews.
-- Journal Entry, 03 September, 1951 -- James Grayson
Ad blocker interference detected!
Wikia is a free-to-use site that makes money from advertising. We have a modified experience for viewers using ad blockers

Wikia is not accessible if you've made further modifications. Remove the custom ad blocker rule(s) and the page will load as expected.