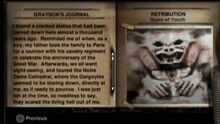 I found a cracked statue that had been carved down here almost a thousand years ago. Reminded me of when,as a boy, my father took the family to Paris for a reunion with his squadron to celebrate the anniversary of the Great War. Afterwards, we all went sight-seeing, and toured the Notre Dame Cathedral, where the Gargoyles seemed to be staring down, directly at me, as if ready to pounce. I was just ten at the time, so needless to say they scared the living hell out of me. Johnny, the shit, recognized in my fear an opportunity to poke and play mind games he could torture me with for years to come. He was a great older brother, but he was also just a kid, and scaring me could be more fun than the finest radio plays. Ironically, Johnny steeled me for this war...what I had to do... to him. I've lived through and done some terrible shit. Shit that would have stopped most men's hearts--but mine never skipped a beat. But when I stumbled across this broken statue, my lungs tightened into a knot and wind ceased to come in or go out. Almost like all the fear Johnny trained me to ignore had crawled back inside me all at once. Reminded me I'm still human. I left the broken gargoyle in the pool where I found it.
-- Journal Entry, 06 September, 1951 -- James Grayson
Ad blocker interference detected!
Wikia is a free-to-use site that makes money from advertising. We have a modified experience for viewers using ad blockers

Wikia is not accessible if you've made further modifications. Remove the custom ad blocker rule(s) and the page will load as expected.