This letter is in response to case number 12755-15-6647, violation of safety regulation
code section 1910.21(fM26).
This letter herein gives formal warning to C&S INDUSTRIES and all related parties
involved in business at 128 Dockside Rd., St. Louis, MD, 63101. During an inspection on
March 23, 1950, abnormal levels of oxidation and corrosion were discovered on key
support beams within the structure, which could lead to progressive collapse. These
defects must be addressed by a certified third-party building engineer within the next
120 days.
Failure to comply with this warning will result in further warnings.
Sincerely,
David Brist
Code Enforcement Officer and General Inspector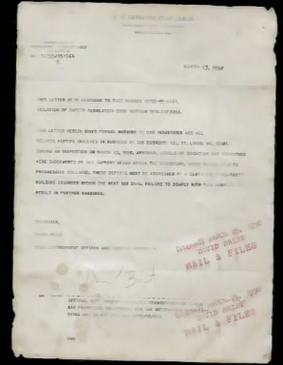 Ad blocker interference detected!
Wikia is a free-to-use site that makes money from advertising. We have a modified experience for viewers using ad blockers

Wikia is not accessible if you've made further modifications. Remove the custom ad blocker rule(s) and the page will load as expected.