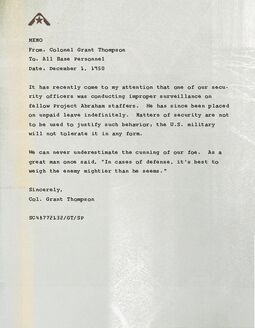 MEMO

From: Colonel Grant Thompson

To: All Base Personnel

Date: December 1, 1950

It has recently come to my attention that one of our secu-
rity officers was conducting improper surveillance on
fellow Project Abraham staffers. He has since been place
on unpaid leave indefinitely. Matters of security are not
to be used to justify such behavior; the U.S. military
will not tolerate it in any form.

We can never underestimate the cunning of our foe. As a
great man once said, "In case of defense, it's best to
weigh the enemy mightier than he seems."

Sincerely,
Col. Grant Thompson

SC48772132/GT/SP
Ad blocker interference detected!
Wikia is a free-to-use site that makes money from advertising. We have a modified experience for viewers using ad blockers

Wikia is not accessible if you've made further modifications. Remove the custom ad blocker rule(s) and the page will load as expected.