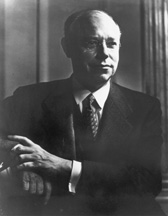 Robert Alphonso Taft (born September 8, 1889) was a Republican United States Senator and a prominent conservative statesman, who was a major proponent of the foreign policy of non-interventionism.
In December 1938, Taft was concerned and critical over the Roosevelt Administration's increasing trade between America and the UED, believing that the Navy's maritime build-up in securing the Atlantic shipping lanes would leans more towards international political involvement and foreign military endeavors. He staunchly challenged President Roosevelt and made his personal mission in stopping Roosevelt's reelection. But being a lackluster public speaker, Robert Taft failed to garner much support against Roosevelt; however, he managed to inspire a young Junior Senator, Noah Grace, who in turn became President and achieved Taft's purpose in keeping America out of foreign affairs.
After the U.S. being invaded by the Chimera, he regretted and saw the error of his isolationism view and criticizes Grace heavily for his damaging policy against the Chimera.
External Links
Edit
Ad blocker interference detected!
Wikia is a free-to-use site that makes money from advertising. We have a modified experience for viewers using ad blockers

Wikia is not accessible if you've made further modifications. Remove the custom ad blocker rule(s) and the page will load as expected.