Home
Talk

75
1,609pages on
this wiki
About
Resistance is a science-fiction horror series of first-person shooter and third-person shooter video games developed by Insomniac Games and published by Sony Computer Entertainment for the PlayStation 3, PlayStation Portable and PlayStation Vita game consoles. The series takes places in an alternate history around the year 1950's, in which an alien species known as the Chimera have invaded Earth and taken over all of Russia, and continue to invade and conquer much of Europe and the United States, expanding their armies by capturing humans and converting them into monstrous, super-powered soldiers to fight on their behalf. The player takes the role of one the sentinels, who are a few people injected with the Chimeran virus which grants them super abilities, like health regeneration.
The series is noted for its use of both conventional and futuristic weaponry, reflecting Insomniac's previous work on the Ratchet & Clank series.
Featured Article
Did You Know
Template:Fact&action=edit Add a fact
...that, so far in the Resistance series, there has been 3 PS3 games, 1 PSP game, 1 PS Vita game, 2 books and 7 comics/1 graphic novel?
...The first chapter of Resistance 2 is named India Eight-Two Crash Site which means "Resistance 2" because in military terms, India stands for "I" and of course Eight(8) Two(2). Resistance: Fall of Man was originally codenamed I-8, hence when Resistance 2 (the sequel) came along it would have been named Resistance: Fall of Man 2 (I-8-2 = India Eight-Two)?
...that the Cloven replace the Chimera as enemies on online mode on Resistance: Retribution?
...that Joseph Capelli's scar on the left side of his face was caused by a doctor hitting him with a crowbar after Capelli attacked him during Project Abraham?
Dynamically changes - refresh me!
Contribute
Not sure where to start?

If you are new to wikis, check out the tutorial.
To write a new article, just enter the article title in the box below.
Recent News
[add · more]
Create blog post
Blogs
In June 2012, Colin Moriarty of IGN publish an article on his review on Resistance: Burning Skies and the bigger question of whether it spells an end …

Read more >
See more >
Featured Image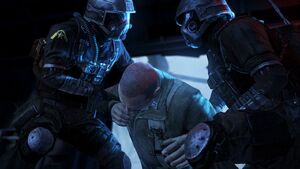 Nominate and Vote here.
Poll
Which parts of the Resistance Universe, have you never delved in? (Why don't you?) | Vote for the one you wanted to play/read the most but never did.