Resistance 2's Soundtrack was composed by Boris D. Salchow.
Boris Salchow wrote more than 3 ½ hours of orchestral music for this extensive project, bridging the gaps between military, horror and sci-fi adventure music.
Sgt. Nathan Hale (Main Theme)
Edit
Resistance 2's theme song, played on the main menu.
Twin Falls
Edit
Played in Dramatic and Emotional scenes such as the Chimeran Fleet's attack on San Francisco and the Bomb Shelter in Twin Falls.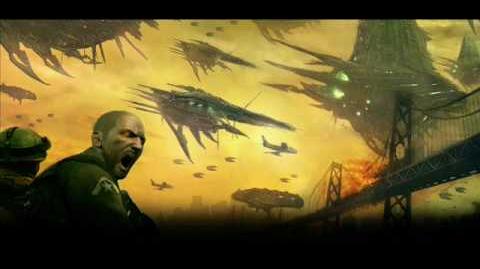 Played in Louisiana.
The Collapse
Edit
Played when Nathan Hale has Pure Chimeran Hands.
Can You Hear Them?
Edit
Played in the last cutscene of Resistance 2 (It Was An Honor)
APM music
Edit
APM music play in radio USA (songs and broadcast's background tunes) and other places. Names of this songs been writen in credits.
Billy Roues, Gary Solomon, Roues, Steven A Roues - Daydreaming 1
Clifford Haywood - Lazy daze
Colin Michael Frechter and Bob Barratt - Who But A Fool
Dick Walter - Happy Jack
Dick Walter - Just a Matter of Time
Franck Sarkissian - Dont be Afraid
Gregor Narholz - Fatal delusions
Hal Davis - Can't get out of my mind
Harry Bluestone - Hall Of Fame
Harry Bluestone - My Old Kentucky Home
Harry Bluestone - Old plantation
Harry Bluestone - The Old Chisholm Trail
Harry Bluestone and Emil Cadkin - Spring Cleaning
Jerry Burnham and Raun Burnham - Guardin angel A
JS Zamecnik - Jaunty Jape
Jules Ruben - Harlem Stride
Keith Nichols - Blue Moan
Lionel Wendling - Swing Dreams
Lionel Wendling and James Albert Jr. Hughes - Train Train
Ludivic Beier and Olivier Lavergne - Paris swing comedy
Mari Falcone - Pretty Baby
Olivier Andres and Christian Seguret - kalamazoo style
Olivier Andres and Christian Seguret - Leather And Skin
Olivier Andres and Christian Seguret - Troubadour's Tour
Olivier Andres and Christian Seguret - Western Swing
Paul Lenart - rockin horse blues
Paul Reeves - Persy street stomp
Paul Reeves - Rendezvous Cocktails
Peter Cork - She Will Be My Sweetheart
Philipp Konowski and Peter Kellert - Rockabilly Shuffle
Pierre Bonjour and Vincent Blin - Choupique Two Step
Pierre Bonjour and Vincent Blin - Lacassine Special
Pierre Bonjour and Vincent Blin - La Danse Carre
Pierre Bonjour and Vincent Blin - Mes Chers Tits Yeux Noirs
Robert Viger - Ghost Are you There
Star Sheep Swing Band - walkin' gently
Susi Gott and Lionel Wendling - Reach The Moon
Susi Gott and Lionel Wendling - Vittles
Trevor Duncan - eastside story
USA Traditional song - The Longest train
Franck Sarkissian - magic in your eyes
Terry Day - isnt it a lovely day
Icelend National Anthems
Bill Bailey (This song found in APM library)
Harry Bluestone and William John Steffe - Battle Hymn Of The Republic
Johannes Brahms - Hungarian Dance No 3
Ad blocker interference detected!
Wikia is a free-to-use site that makes money from advertising. We have a modified experience for viewers using ad blockers

Wikia is not accessible if you've made further modifications. Remove the custom ad blocker rule(s) and the page will load as expected.