Ravagers are a Chimeran strain that first appears in Resistance 2.
The Ravager is a muscular Chimeran strain which tower over soldiers by several feet. Aside from being armed with lethal weapons, Ravagers are excellent melee fighters and will often charge full speed at their targets. They are almost always accompanied by other Chimeran units such as Hybrids, other Ravagers and several others. They are considered to be the strongest regular Chimera strain infantry on the front lines, even more so than Steelheads. They also have the exact same appearance as Brutes.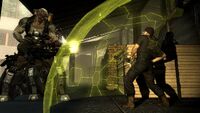 Ravagers first appear in San Francisco. They wear heavy armor (particularly on their legs), which gives the Ravagers excellent defence. Ravagers are equipped with either one of two types of equipments/weapons, one is the Brute Minigun and the other is a plasma gun with portable shield.
Primary: Brute minigun, Plasma gun
Secondary: Shield
Grenade: None
Melee: Shield, arms, swinging minigun
Resistance 2 Co-opEdit
Ravagers are deployed mostly solo or either in small squads, the largest groups being as big as five, and when together, are usually led by a larger Ravager (these Ravagers are probably Primarchs or Overseers due to them being significantly stronger than the others). Ravager Primarchs and Overseers always wield Brute Miniguns.
In Superhuman difficulty, a regular Ravager armed with the portable shield takes about 255 XP of damage to kill. Ravagers wielding a Brute Minigun takes well over 300 XP of damage to kill (in co-op, the minigun variants that guard the containment block in Axbridge, can apparently take almost 400 XP of damage on Superhuman, which is unheard of coming from a regular Chimeran strain).
Ravagers are revamped with a more threatening appearance and are armed with the Atomizer. Ravagers are able to withstand a lot of damage, even more than in Resistance 2, as multiple headshots from the Deadeye or Marksman are required to kill it, except if the Deadeye's Proton Charge is used. The Ravagers first appear in Friends in Low Places after Joseph Capelli have helped the Remnants fight the first wave of Chimera at the disabled VTOL. The Ravagers seem to be armed with a triggered Force Barrier (much like an Auger's Force Barrier) that stops all projectiles from the front. This is not used from the Atomizer, their main weapon, but apparently triggered from some device hooked onto the Ravager's heatstack. This is most likely a similar ability to Resistance 2's Ravagers, being armed with a large Force Barrier device whilst using their signature plasma guns.
Primary: Atomizer
Secondary: Shield
Grenade: None
Melee: Swinging Atomizer, arm
Enemy Journal
Edit
"
A giant Hybrid variant engineered to withstand heavy damage. This elite fighting unit


lumbers towards its target while discharging crippling bolts of electricity from its
primary weapon. These relentless pursuers will track down targets with terrifying
efficiency.

Primary Weapon - Atomizer.



Survival Tip: Keep a safe distance from Ravagers, and always stay behind cover.
"
Resistance 2Edit
Resistance 3Edit
Resistance 2Edit
Resistance 3Edit
Ad blocker interference detected!
Wikia is a free-to-use site that makes money from advertising. We have a modified experience for viewers using ad blockers

Wikia is not accessible if you've made further modifications. Remove the custom ad blocker rule(s) and the page will load as expected.