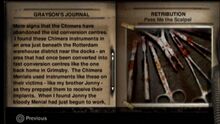 More signs that the Chimera have abandoned the old conversion centers. I found these Chimera instruments in an area just beneath the Rotterdam warehouse district near the docks- an area that had one been converted into fast conversion centers like the one back home in Grimsby. The Chimera Menials used instruments like those on their victims- like my brother Johnny- as they prepped them to receive their implants. When I found Johnny the bloody Menial had just begun to work slicing open his chest and shoulders. Johnny was already infected so I could only pray that the infected felt no pain.
-- Journal Entry, 30 August, 1951 -- James Grayson
Ad blocker interference detected!
Wikia is a free-to-use site that makes money from advertising. We have a modified experience for viewers using ad blockers

Wikia is not accessible if you've made further modifications. Remove the custom ad blocker rule(s) and the page will load as expected.