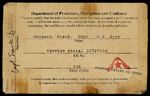 Department of Protection, Perception and Guidance
This is to certify that the individual named below has been assigned a civil evacuation
code. Card bearer must carry this card at all times. In the event of a national
emergency, the card bearer should follow instructions from the authorities

Gennaro, Frank, Capt. U.S. Army
Name

Service serial 389245tc
I.D. No.

18B
EVAC CODE

Failure to carry this card or comply with civil instructions is punishable
by imprisonment of up to 10 years and fine of up to $1,000
Ad blocker interference detected!
Wikia is a free-to-use site that makes money from advertising. We have a modified experience for viewers using ad blockers

Wikia is not accessible if you've made further modifications. Remove the custom ad blocker rule(s) and the page will load as expected.