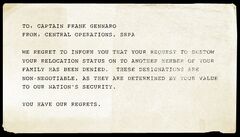 TO: CAPTAIN FRANK GENNARO
FROM: CENTRAL OPERATIONS, SRPA

WE REGRET TO INFORM YOU THAT YOUR REQUEST TO BESTOW
YOUR RELOCATION STATUS ON TO ANOTHER MEMBER OF YOUR
FAMILY HAS BEEN DENIED. THESE DESIGNATIONS ARE
NON-NEGOTIABLE, AS THEY ARE DETERMINED BY YOUR VALUE
TO OUR NATION'S SECURITY.

YOU HAVE OUR REGRETS.

Ad blocker interference detected!
Wikia is a free-to-use site that makes money from advertising. We have a modified experience for viewers using ad blockers

Wikia is not accessible if you've made further modifications. Remove the custom ad blocker rule(s) and the page will load as expected.