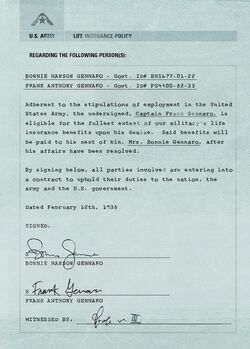 U.S. ARMY              LIFE INSURANCE POLICY

REGARDING THE FOLLOWING PERSON(S):

BONNIE HANSON GENNARO - Govt. ID BH5677-01-22
FRANK ANTHONY GENNARO - GOVT. ID# FG4400-82-33

Adherent to the stipulations of employment in the United
States Army, the undersigned, Captain Frank Gennaro, is
eligible for the fullest extent of our military's life
insurance benefits upon his demise. Said benefits will
be paid to his next of kin, Mrs. Bonnie Gennaro, after
his affairs have been resolved.

By signing below, all parties involved are entering into
a contract to uphold their duties to the nation, the
army and the U.S. government.

Dated February 12th, 1938

SIGNED:

X Bonnie Gennaro
BONNIE HANSON GENNARO

x Frank Gennaro
Frank Anthony Gennaro

WITNESSED BY: (signature)
Ad blocker interference detected!
Wikia is a free-to-use site that makes money from advertising. We have a modified experience for viewers using ad blockers

Wikia is not accessible if you've made further modifications. Remove the custom ad blocker rule(s) and the page will load as expected.