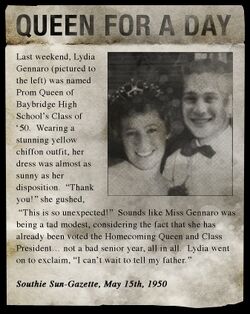 QUEEN FOR A DAY

Last weekend, Lydia
Gennaro (pictured to
the left) was named
Prom Queen of
Baybridge High
School's Class of
'50. Wearing a
stunning yellow
chiffon outfit, her
dress was almost as
sunny as her
disposition. "Thank
you!" she gushed,
"This is so unexpected!" Sounds like Miss Gennaro was
being a tad modest, considering the fact that she has
already been voted the Homecoming Queen and Class
President... not a bad senior year, all in all. Lydia went
on to exclaim, "I can't wait to tell my father."

Southie Sun-Gazette, May 15th, 1950
Ad blocker interference detected!
Wikia is a free-to-use site that makes money from advertising. We have a modified experience for viewers using ad blockers

Wikia is not accessible if you've made further modifications. Remove the custom ad blocker rule(s) and the page will load as expected.