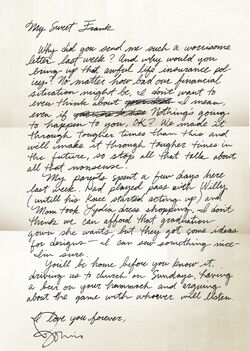 My Sweet Frank

    Why did you send me such a worrisome
letter last week? And why would you
bring up that awful life insurance pol-
icy? No matter how bad our financial
situation might be, I don't want to
ever think about over death I mean,
even if you were to die Nothings going
to happen to you, OK? We made it
through tougher times than this and
well make it through times than this and
will make it through tougher times in
the future, so stop all that talk about
all that nonsense.
    My parents spent a few days here
last week. Dad played pass with Willy
(until his knee started acting up) and
Mom took Lydia dress shopping. I don't
think we can afford that graduation
gown she wants, but they got some ideas
for designs - I can sew something nice -
I'm sure.
    You'll be home before you know it,
driving us to church on Sundays, having
a beer on your hammock and arguing
about the game with whoever will listen.

I love you forever,

Bonnie
Ad blocker interference detected!
Wikia is a free-to-use site that makes money from advertising. We have a modified experience for viewers using ad blockers

Wikia is not accessible if you've made further modifications. Remove the custom ad blocker rule(s) and the page will load as expected.