This article is a stub. You can help the Resistance Wiki by

expanding it

.

Would you help contribute the Resistance Wiki by editting the text and adding information?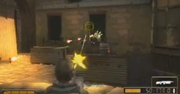 The Mounted Machine-gun appears in many forms and is seen in every Resistance game to date.
The most common way it is seen is that's part of a VTOL with one placed on both side doors and LU-P LYNX mount on the rear which uses by Lt. Steven Cartwright while Sgt. Nathan Hale driving in the levels of Cheddar Gorge and London in Resistance: Fall of Man. They also appear on the M35 transport trucks in Resistance 2. In Resistance: Retribution, Pvt. James Grayson uses one to get past enemies coming through the building in Rotterdam, Netherlands.
Strangely, even though all VTOLs are armed with the machine gun, in the opening cutscene of Resistance: Fall of Man a VTOL with a mounted minigun can be seen.
In the VTOL carrying you to SRPA base Igloo in the first mission of Resistance 2, Major Richard Blake calls it (the machine gun variant) a cannon when he orders Victor Two to man it.
Ad blocker interference detected!
Wikia is a free-to-use site that makes money from advertising. We have a modified experience for viewers using ad blockers

Wikia is not accessible if you've made further modifications. Remove the custom ad blocker rule(s) and the page will load as expected.