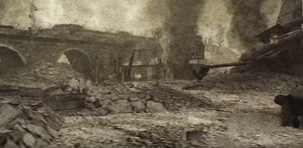 Luxembourg City is a commune with city status, and the capital of the Grand Duchy of Luxembourg. It stands at the confluence of the Alzette and Pétrusse Rivers in southern Luxembourg.
The Maquis headquarters was located in the Luxembourg Castle during the Chimeran occupation of Europe in 1950.
After the remnants of First Squadron had successfully destroyed the Gun Tower in Rotterdam, British Armed Forces travel to Luxembourg to secure the Maquis stronghold before preparing to assault the Chimeran tower in Paris. The castle soon came under attack by the Chimera in which the Casemates tunnels beneath Luxembourg were breached by Burrowers, allowing the Chimera to attack the lower tunnels and science labs. The underground parts of the Maquis fortress were subsequently taken over, and forcing the Maquis and British forces to evacuate to the last remaining safe zone in Reims.
Ad blocker interference detected!
Wikia is a free-to-use site that makes money from advertising. We have a modified experience for viewers using ad blockers

Wikia is not accessible if you've made further modifications. Remove the custom ad blocker rule(s) and the page will load as expected.