Dear Mom,
Mick cornered me today. He told me I had to join his gang if I wanted to keep getting
food and water. A power play. I reminded him without me he would be rotting in his
cell. He reminded me that without him and his pal Herbert, prison would be swarming
with Chimera. I wanted to tell him Herbert is not his pal, but that would have been a
bad idea. Anyway, there was nothing I could do. We are running out of food. I hope you
have food where you are, and I still hope you still have crosswords to keep busy.
Love, Dick.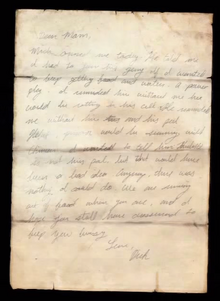 Ad blocker interference detected!
Wikia is a free-to-use site that makes money from advertising. We have a modified experience for viewers using ad blockers

Wikia is not accessible if you've made further modifications. Remove the custom ad blocker rule(s) and the page will load as expected.