Dear Mom,
I am out. I took apart my bed frame and made a couple of tools. It took a long time. My
fingers are ripped up but I did it. And you said thieving was a sin. You should thank
God I know how to pick a lock. Now I got to decide If I should let the rest of them out.
Some of them are real bad guys. But if what they are saying is true, I am better off with
some friends to fight with. I hope you are doing okay and I hope to see you soon.
Love, Dick.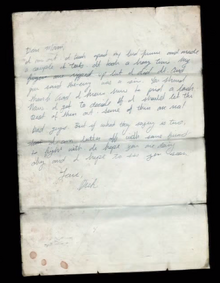 Ad blocker interference detected!
Wikia is a free-to-use site that makes money from advertising. We have a modified experience for viewers using ad blockers

Wikia is not accessible if you've made further modifications. Remove the custom ad blocker rule(s) and the page will load as expected.