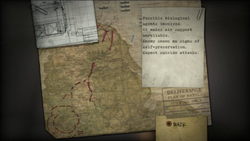 Landing is the fifth Intel document in Resistance: Fall of Man.
Possible biological
agents involved.
AA makes air support
unreliable.
Enemy shows no signs of
self-preservation.
Expect suicide attacks.

(Map DELIVERANCE PLAN OF BATTLE)
(Map EYES ONLY)
(APPROVED GEN R.HADLEY 4-6-58
REV. 3.0)
R. Hadley is said to have approved of Operation Deliverance on June 4th, 1958, an obvious typo seeing as Deliverance happened on July 11th, 1951.
Ad blocker interference detected!
Wikia is a free-to-use site that makes money from advertising. We have a modified experience for viewers using ad blockers

Wikia is not accessible if you've made further modifications. Remove the custom ad blocker rule(s) and the page will load as expected.