SRPA file LDP758986PS classification of a standard Liberty Defense Tower.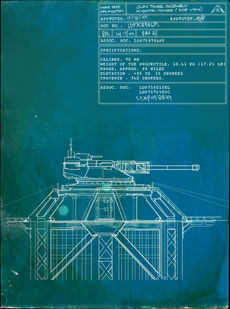 WAR DEPT.        GUN TOWER ASSEMBLY
ARLINGTON        WICHITA TOWER (SIDE VIEW)
APPROVED: 10/20/49    APPROVER:(sig "KYP")

DOC NO.: LDP758986PS
RAS 10/17/49    REV. A
ASSOC. DOC: LDP758986PS

SPECIFICATIONS:
CALIBER: 90 MM WEIGHT OF THE PROJECTILE: 10.61 KG (17.21 LB)
RANGE: APPROX. 28 MILES
ELEVATION : +85 TO 15 DEGREES
TRAVERSE : 360 DEGREES.

ASSOC. DOC: LDP758012EL LDP759540YC SCNP458849
The sheet says "SCNP" but the filename is "SCNR".
Ad blocker interference detected!
Wikia is a free-to-use site that makes money from advertising. We have a modified experience for viewers using ad blockers

Wikia is not accessible if you've made further modifications. Remove the custom ad blocker rule(s) and the page will load as expected.