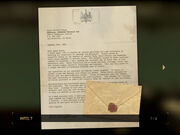 Major Richard Blake
Director, Advanced Tactical Ops
Dear Major Blake,
I would like to again extend my sincere gratitude for your assistance in battling the
incursions at Axbridge and Bracknell. Please extend my heartfelt thanks to the
members of Specter Team, whose bravery and exemplary skill saved hundreds of
British lives. The Chimeran attack on these locations appears to represent a more
cunning and strategic use of force than we have previously seen. Those facilities had
no major military strategic value, but did contain highly sensitive technology and
research. This can only point to a larger and more coordinated Chimeran plan of
attack.
Our Operations on the continent are making steady progress. We expect to strike
inside the Russian Wall within six months. Recon forces captured two Cloven near the
Russia/Belarus border. Cloven cooperation with the Chimera has been increasing in
frequency and sophistication. Will arrange for transfer of Cloven prisoners to SRPA-3
for research under Dr. Malikov at your discretion.
Reconnaissance has discovered three more Chimeran ship construction yards on the
continent. The locations are too heavily fortified to coordinate an attack at this time.
Although we have only sighted two aerial battleships thus far, we estimate that they
may have as many as 80 under construction. I will continue to keep you advised of any
new intelligence we discover.
On a more personal note, I have received information that there is a man under your
command who fought in the Battle of London - your "Operation Deliverance", I believe.
I have enclosed a separate sealed envelope. I would thank you greatly if you would
deliver that to him when you have the opportunity.
Kind regards,
Colonel Rachel Parker
British Intelligence Corps
Ad blocker interference detected!
Wikia is a free-to-use site that makes money from advertising. We have a modified experience for viewers using ad blockers

Wikia is not accessible if you've made further modifications. Remove the custom ad blocker rule(s) and the page will load as expected.