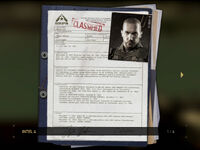 Name: Hale, Nathan
Sex: M
Height: 6'2"
D.O.B.: 23-Nov-22
Rank: Lieutenant
S/N: 849342
Unit: Echo Team
Supervising Physician: Malikov, Fyodor
SRPA Test Case: 80440-91A
OFFICIAL STATUS: K.I.A. July 14, 1951
UNOFFICIAL STATUS:
Reclaimed by SRPA Tactical Ops July 14, 1951. Recruited into Sentinel Program July
17, 1951. Currently under command of Major Richard Blake, acting Director of Tactical
Ops at SRPA Station 003 (SFCA).
PHYSICIAN'S NOTES:
Subject has responded favorable to stage seven inhibitor. However, cellular receptors
are beginning to combat serum effectiveness at an alarming rate. Responsiveness to
inhibitor treatment may reach zero without immediate medical attention. Recommend
removal from active duty and transportation to SRPA-NT for further analysis.
SENTINEL HISTORY:
Survivor. Project Abraham. Released to United States Army Rangers for clandestine
observation December 25th 1950. Live trial determined to be successful.
Assigned to Sentinel Team Echo August 1, 1951 under the leadership of Lt. Hank Leavitt (KIA).
Aided in OPERATION KODIAK. October 8, 1952.
Planned and executed OPERATION FROZEN FORTRESS. November 11, 1952.
Promoted to Lieutenant January 5, 1952.
Awarded Silver Star for the successful retrieval of eighteen civilians stranded inside
gray territory formerly known as Wisconsin, April 11, 1952.
CITATIONS:
December 1, 1950: UCMJ-134 - Fraternization with SRPA Medical Practitioner
Acklinka, Cassie, FIRST WARNING.
December 12, 1950: UCMJ-134 - Fraternization with SRPA Medical Practitioner
Acklinka, Cassie. SECOND WARNING.
Ad blocker interference detected!
Wikia is a free-to-use site that makes money from advertising. We have a modified experience for viewers using ad blockers

Wikia is not accessible if you've made further modifications. Remove the custom ad blocker rule(s) and the page will load as expected.