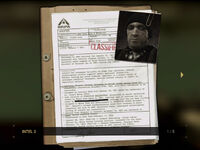 Name: Capelli, Joseph Evan
Sex: M
Height: 6'5"
D.O.B.: 10-Dec-19
Rank: Corporal
S/N: 492234
Unit: Echo Team
Supervising Physician: Carter, Henry
SRPA Test Case: 80452-52A
OFFICIAL STATUS: K.I.A., January 07, 1951
UNOFFICIAL STATUS:
Reclaimed by SRPA Tactical Ops January 07, 1951. Recruited into Sentinel Program
January 11, 1951. Currently under command of Major Richard Blake, acting Director of
Tactical Ops at SRPA Station 003 (SFCA).
PHYSICIAN'S NOTES:
Subject has responded favorably to stage four inhibitor, however psychological profile
suggests severe emotional instability. Further testing may prove chemical imbalance
is a direct result of prolonged inhibitor treatment, however patient refuses to submit to
behavioral analysis.
SENTINEL HISTORY:
Survivor, Project Abraham. Released to United States Marine Corps for clandestine
observation December 27th, 1950. Live trial determined to be successful.
Assigned to Sentinel Team Kilo January 12, 1951 under the leadership of Lt. Stuart Brown (KIA).
Sole survivor of OPERATION BELLEROPHON. Discovered in Warsaw conversion center
by Bravo Team March 9, 1951. Admitted that he survived for six weeks by (OMITTED),
although this has not been verified.
Assigned to Bravo Team and participated in OPERATION ICARUS November 1, 1951.
Subject's alleged insubordination under fire resulted in heavy casualties and loss of
SRPA Substation Kappa. Subsequent psychological testing of subject was inconclusive.
Demoted from Sergeant to Corporal November 10, 1952 and sentenced to three
months inactive status.
Transferred to Echo Team February 11, 1953.
CITATIONS:
January 29, 1951: UCMJ-133 - Conduct Unbecoming. Struck Senior Officer Lt. Brown
during training exercise. Suspended for two weeks.
February 12, 1953: UCMJ-133 - Conduct Unbecoming. Attacked three physicians during
routine checkup at SRPA Station 003 (SFCA). Suspension commuted per
recommendation of Blake, Richard.
Ad blocker interference detected!
Wikia is a free-to-use site that makes money from advertising. We have a modified experience for viewers using ad blockers

Wikia is not accessible if you've made further modifications. Remove the custom ad blocker rule(s) and the page will load as expected.