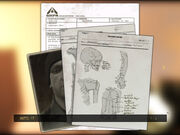 SRPA Incident Report 12990-00B
Prepared By: Schneider, Ross
Date: 12-Feb-53
INCIDENT DETAILS:
At approximately 0900, security officers were called in to respond to a code yellow
incident involving Doctors Oscar Villamizar, Frederick Jean, and Percy Kabeck in Med
Clinic 004.
According to Sergeant Benjamin Warner, the attending physicians discovered Capelli
in a torpid state bleeding from apparently self-inflicted wounds. When Dr. Villamizar
attempted to administer first aid, Capelli became instantly alert and enraged, throwing
him through a plate glass window.
Sergeant Warner eventually subdued Corporal Capelli, but was unable to sedate him
until security officers arrived. Capelli was immediately transferred to the G Level
Holding Zone.
VICTIM INFORMATION:
Resulting injuries included the following:
VILLAMIZAR: Severe lacerations to hands, forearms, and face. Broken collar bone,
broken knee (L), separated shoulder (R).
JEAN: Fractured clavicle, broken nose, broken humerus (R), broken ulna (R).
KABECK: Crushed jaw, broken humerus (L), torn rotatory cuff (L), multiple bruises on
head and torso.
RECOMMENDATION:
IMMEDIATE PSYCHOLOGICAL PROFILE
STATUS RED UNTIL FURTHER NOTICE
Ad blocker interference detected!
Wikia is a free-to-use site that makes money from advertising. We have a modified experience for viewers using ad blockers

Wikia is not accessible if you've made further modifications. Remove the custom ad blocker rule(s) and the page will load as expected.