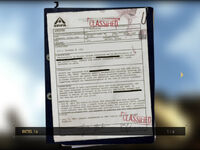 Name: Shepherd, Jordan Adam
Sex: M
Height: 5'09"
D.O.B.: 9-Jan-28
Rank: Private
S/N: 251756
Unit: n/a
Supervising Physician: Malikov, Fyodor
SRPA Test Case: **RESTRICTED**
OFFICIAL STATUS: K.I.A. December 8, 1950
UNOFFICIAL STATUS:
Participation in Project Abraham terminated to due manifestation of (OMITTED).
Remanded to (OMITTED) for treatment and further study.
CONTACT WITH SUBJECT PROHIBITED WITHOUT G LEVEL CLEARANCE OR ABOVE.
PHYSICIAN'S NOTES:
Subject was inoculated with (OMITTED) retrieved from SRPA Station Genesis (BC, UTAH).
Immediate genetic recombination resulted, altering the subject's physical and
mental state beyond projected figures. All attempts to hinder progression of virus via
inhibitors have proven ineffective, suggesting subject was uncompromisable at the
time of initial treatment.
Subject claims to have experienced aural and visual hallucinations, and has since
displayed violent behavior towards patients and staff. He demands wife Hannah
be brought to the facility, and becomes enraged when request is denied. He may be
communicating with (OMITTED), but this has not yet been proven.
ADDITIONAL NOTES:
July 8, 1951: The bodies of eleven SRPA employees have been discovered outside
subject's cell. A report filed by attending physician ORTIZ, MARTIN claims all eleven
died from severe head trauma. The position of the corpses would indicate that the
injuries were self inflicted, but some speculate Shepherd is responsible. All attempts
to question him have been unsuccessful.
July 10, 1951: Subject transferred to SRPA Igloo Station for PROJECT DAEDALUS.
Ad blocker interference detected!
Wikia is a free-to-use site that makes money from advertising. We have a modified experience for viewers using ad blockers

Wikia is not accessible if you've made further modifications. Remove the custom ad blocker rule(s) and the page will load as expected.