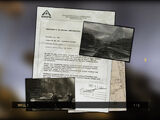 Submitted By: Gen. Archibald Solomon
Please note technology appears to be far more advanced than drop ships with

possible long-range capabilities and onboard weapons systems (see attached photo E

-11). Components appear to have been retrieved from within Chimeran hub tower and

assembled by menials.
Recommend elevating alert level on Liberty Defense Perimeter and notifying

Department of War of probable homeland assault within the next two years.
Ad blocker interference detected!
Wikia is a free-to-use site that makes money from advertising. We have a modified experience for viewers using ad blockers

Wikia is not accessible if you've made further modifications. Remove the custom ad blocker rule(s) and the page will load as expected.