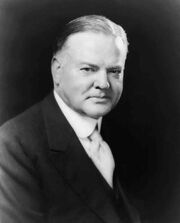 Herbert Hoover (born August 10, 1874) was the 31st President of the United States of America. In the late 1920's he was faced with a potential economic depression. And knowing that the Smoot-Hawley Tariff Act would undermine the commitment he had pledged to international cooperation and global trade, Hoover announced to the nation via radio that he will veto the Tariff Act in late October 1929. On the next trading day (known as "Green Tuesday") after Hoover's veto, the Dow Jones recovered its losses.
External Links
Edit
Ad blocker interference detected!
Wikia is a free-to-use site that makes money from advertising. We have a modified experience for viewers using ad blockers

Wikia is not accessible if you've made further modifications. Remove the custom ad blocker rule(s) and the page will load as expected.