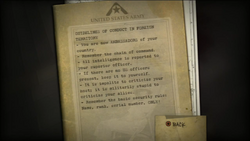 Guidelines is the first Intel document found in Resistance: Fall of Man. It is found in the section level "Gauntlet" in York.
GUIDELINES OF CONDUCT IN FOREIGN
TERRITORY
You are now AMBASSADORS of your

Remember the chain of command.
All intelligence is reported to

    the superior officer.
If there are non US officers

    present keep it to yourself.
It is impolite to criticize your

    host; it is militarily stupid to
        criticize your allies.
Remember your basic security rule:

    Name, rank, serial number, ONLY!
Ad blocker interference detected!
Wikia is a free-to-use site that makes money from advertising. We have a modified experience for viewers using ad blockers

Wikia is not accessible if you've made further modifications. Remove the custom ad blocker rule(s) and the page will load as expected.