Dunkerque
Talk

0
1,558pages on
this wiki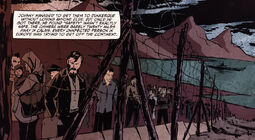 Dunkerque (known as Dunkirk to the English speaking countries) is a French town on the edge of the border of Belgium.
In 1950, many UED soldiers, soldiers from the British Army, and refugees who were uninfected from the Chimeran virus used this port to escape to Britain during the Fall of Europe.[1]
The Evacuation of Dunkerque happened in the real life timeline, during World War Two but between May 27th - June 4th, 1940, 10 years before the event in Resistance. And also in 1940, the Allies were escaping from the Germans, not the Chimera.