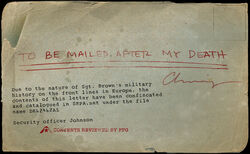 TO BE MAILED AFTER MY DEATH
                                        Channing

Due to the nature of Sgt. Brown's military
history on the front lines in Europe, the
contents of this letter have been confiscated
and catalogued in SRPA.net under the file
name DK62462A5

Security Officer Johnson

Contents reviewed by PPG
This note is barely readable in Channing Brown's dossier photo of personal property. Sufficiently legible to read the file "DK62462A5"
Ad blocker interference detected!
Wikia is a free-to-use site that makes money from advertising. We have a modified experience for viewers using ad blockers

Wikia is not accessible if you've made further modifications. Remove the custom ad blocker rule(s) and the page will load as expected.