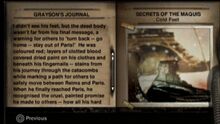 I didn't see his feet, but the dead body wasn't far from his final message, a warning for others to 'turn back -- go home -- stay out of Paris!' He was coloured red; layers of clotted blood covered dried paint on his clothes and beneath his fingernails -- stains from his journey through the catacombs while marking a path for others to safely move between Reims and Paris. When he finally reached Paris, he recognised the cruel, painted promise he made to others -- how all his hard work would lead them to their deaths when they emerged from the catacombs -- the same violent death he was about to suffer... It's hard to tell what kind of Chimera finished him off, but it was big, and the act wasn't pretty. His clothing and body eviscerated by the attack, there was just enough of his uniform to see he was part of the Maquis... Intel division.
-- Journal Entry, 06 September, 1951 -- James Grayson
Ad blocker interference detected!
Wikia is a free-to-use site that makes money from advertising. We have a modified experience for viewers using ad blockers

Wikia is not accessible if you've made further modifications. Remove the custom ad blocker rule(s) and the page will load as expected.