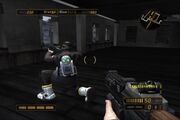 The Clank Backpack is an unlockable piece of multiplayer equipment. It features a backpack that looks exactly like Clank from Insomniac's Ratchet and Clank, and the Gravity Boots from the same franchise as well. A wrench piece from Ratchet and Clank can also be unlocked with this armor later on.
The backpack is unlocked when the player earns 100 skill points.
The backpack is unlocked when the player reaches level 29 in Competitive Mode.
Ratchet's wrench is also unlocked once the player reaches level 28.
Ad blocker interference detected!
Wikia is a free-to-use site that makes money from advertising. We have a modified experience for viewers using ad blockers

Wikia is not accessible if you've made further modifications. Remove the custom ad blocker rule(s) and the page will load as expected.