Chimeran Planet
Talk

0
1,558pages on
this wiki
This page needs to clean up!

This article, Chimeran Planet, or a section of this article may require overall cleanup.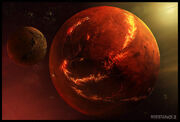 The Chimeran planet is believed to be the home of the Chimeran race. is red, large, and has at least one noticeable moon.
Description
Edit
The planet is a redish orange neighboring with a noticeable dark orange-colored moon. It also has a sun behind it with a purple moon/planet. It appears to have a huge crater with a canyon breaking off to the right, presumably to have suffered a large impact sometime in the past.
The climate of the planet is unknown but it almost certainly has got a temperature many degrees below zero because of the Chimeran need for artificial cooling towers on the extremely hot Earthly environment. However it's possible that their homeworld is heating up, forcing them to flee it and find another world to call home.
Appearances
Edit