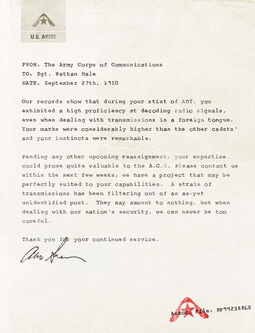 FROM: The Army Corps of Communications
TO: Sgt. Nathan Hale
DATE: September 27th, 1950

Our records show that during your stint of ADT, you
exhibited a high proficiency at decoding radio signals,
even when dealing with transmissions in a foreign tongue.
Your marks were considerably higher than the other cadet'
and your instincts were remarkable.

Pending any other upcoming reassignment, your expertise
could prove quite valuable to the A.C.C. please contact us
within the next few weeks; we have a project that may be
perfectly suited to your capabilities. A strain of
transmissions has been filtering out of an as-yet
unidentified post. They may amount to nothing, but when
dealing with our nation's security, we can never be too
careful.

Thank you for your continued service.
(signature)
The document stamp leads to SRPA_File-RF992388LS, which is a memo from the Army Corps of Communications to Hale on Sept 27th, 1950 shows Hale was asked to help decode an unknown symbol, given his skill in foreign tongues.
Ad blocker interference detected!
Wikia is a free-to-use site that makes money from advertising. We have a modified experience for viewers using ad blockers

Wikia is not accessible if you've made further modifications. Remove the custom ad blocker rule(s) and the page will load as expected.