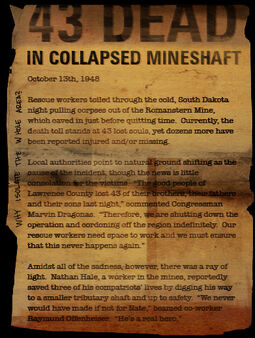 43 DEAD
IN COLLAPSED MINESHAFT

October 14th, 1948

Rescue workers toiled through the cold, South Dakota
night pulling corpses out of the Romanstern Mine,
which caved in just before quitting time. Currently, the
death toll stands at 43 lost souls, yet dozens more have
been reported injured and/or missing.

Local authorities point to the natural ground shifting as the
cause of the incident, though the news is little
consolation for the victims. "The good people of
Lawrence County lost 43 of their brothers, their fathers
and their sons last night," commented Congressman
Marvin Dragonas. "Therefore, we are shutting down the
operation and cordoning off the region indefinitely. Our
rescue workers need space to work and we must ensure
that this never happens again."

Amidst all of the sadness, however, there was a ray of
light. Nathan Hale, a worker in the mines, reportedly
saved three of his compatriots' lives by digging his way
to a smaller tributary shaft and up to safety. "We never
would have made if not for Nate," beamed co-worker
Raymond Offenheiner. "He's a real hero."
(Written parallel on the news column is: WHY ISOLATE THE WHOLE AREA?)
Ad blocker interference detected!
Wikia is a free-to-use site that makes money from advertising. We have a modified experience for viewers using ad blockers

Wikia is not accessible if you've made further modifications. Remove the custom ad blocker rule(s) and the page will load as expected.