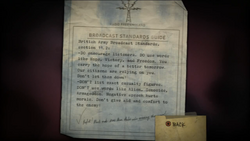 Broadcast Guide" is the twenty-fifth Intel document in Resistance: Fall of Man. It is found in the section level "Evacuation" in Bristol.
RADIO FREE ENGLAND
BROADCAST STANDARDS GUIDE
British Army broadcast standards, section 91.2s
-DO encourage listeners. DO use words like Hope, Victory, and Freedom. You carry the hope of a better tomorrow. Our civilians are relying on you. Don't let them down.
-DON'T list start casualty figures. DON'T use words like Alien, Genocide, Armageddon. Negative speech hurts morale. Don't give aid and comfort to the enemy!
Ad blocker interference detected!
Wikia is a free-to-use site that makes money from advertising. We have a modified experience for viewers using ad blockers

Wikia is not accessible if you've made further modifications. Remove the custom ad blocker rule(s) and the page will load as expected.