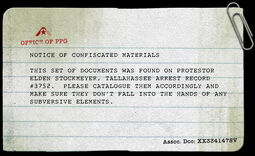 OFFICE OF PPG

 NOTICE OF CONFISCATED MATERIALS

 THIS SET OF DOCUMENTS WAS FOUND ON PROTESTOR
 ELDEN STOCKMEYER, TALLAHASSEE ARREST RECORD
 #3752. PLEASE CATALOGUE THEM ACCORDINGLY AND
 MAKE SURE THEY DON'T FALL INTO THE HANDS OF ANY
 SUBVERSIVE ELEMENTS.

                                                      Assoc. Doc: XX334147SV
Ad blocker interference detected!
Wikia is a free-to-use site that makes money from advertising. We have a modified experience for viewers using ad blockers

Wikia is not accessible if you've made further modifications. Remove the custom ad blocker rule(s) and the page will load as expected.