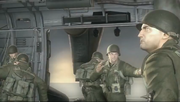 Arrow Company was a military unit of the United States 1st Ranger Regiment that participated in Operation Deliverance.
Arrow Company were incredibly ineffective during the operation, swiftly neutralized when they flew over Chimeran Anti-Air destroying their VTOL and the survivors were quickly killed by Chimeran ground forces.
Sergeant Nathan Hale was part of Arrow Company during Operation Deliverance.
Ad blocker interference detected!
Wikia is a free-to-use site that makes money from advertising. We have a modified experience for viewers using ad blockers

Wikia is not accessible if you've made further modifications. Remove the custom ad blocker rule(s) and the page will load as expected.