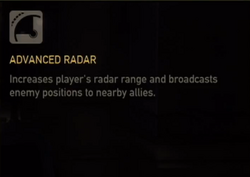 Advanced Radar is a muliplayer only berserk.
It shows all nearby enemies on your minimap. This berserk also helps teammates as they can see enemies on their minimap when they are close to you. This berserk is only available whilst playing as a Human and is unlocked at level one.
Ad blocker interference detected!
Wikia is a free-to-use site that makes money from advertising. We have a modified experience for viewers using ad blockers

Wikia is not accessible if you've made further modifications. Remove the custom ad blocker rule(s) and the page will load as expected.