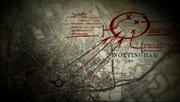 The 24th Special Air Service Regiment was a assault force made up of special commandos that took part in Operation Shear.
During Operation Shear, the 24th had a H-Squadron, which boasted 108 troops and were led by Lieutenant Stephen Cartwright. During the operation, 54 commandos under Cartwright went as an assault force until they reached heavy resistance and required the help of the other half of H-Squadron (54 troops), led by Lieutenant Childress (the mobile vector) to relieve them.
Even though, the 24th lose one of their commanding officers and took heavy losses. The 24th's H-Squadron managed to achieve their objective and prevent a Chimeran Tower from being excavated.
Squadrons
Edit